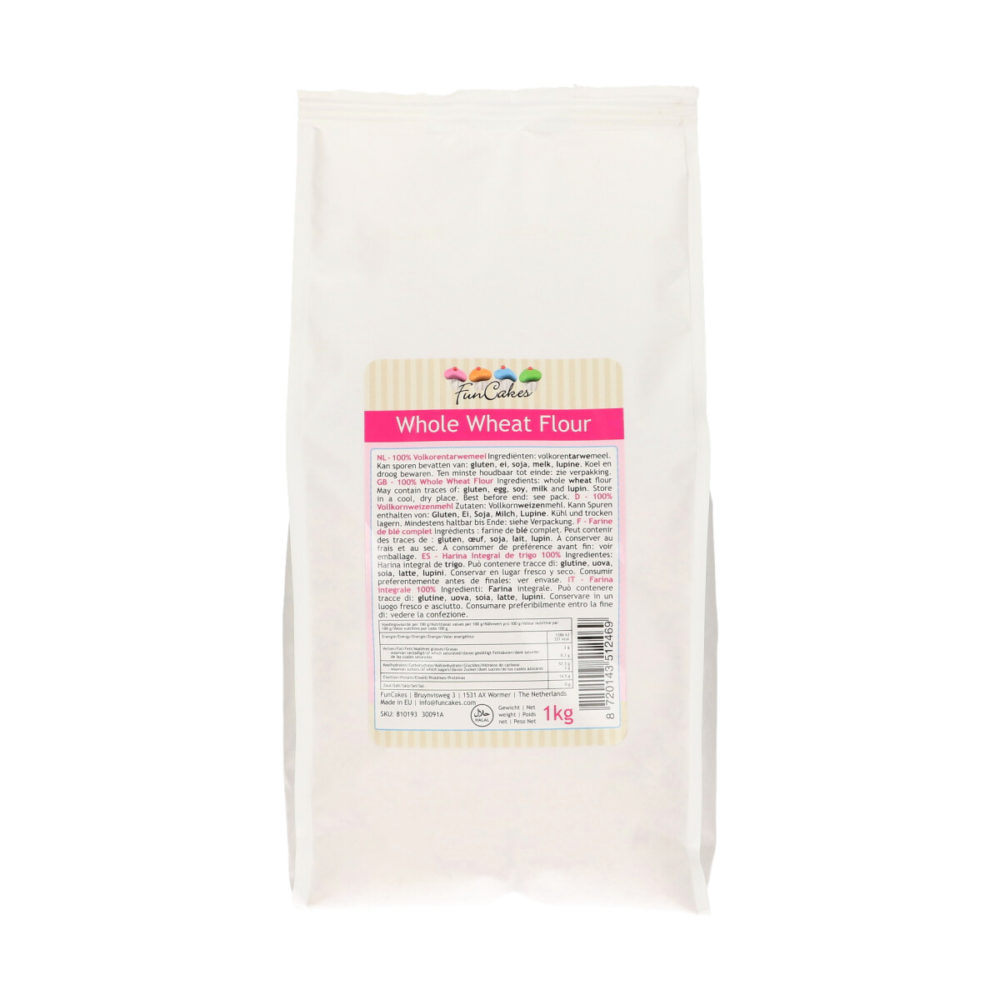 Flour
Whole Wheat Flour
Make delicious whole- or multigrain bread with the Whole Wheat Flour. The flour is made of whole grain of wheat and has a light brown colour. Because the majority of the nutritional values are in the outer layer of the grain, this flour is rich in vitamins, minerals and dietary fiber. Add the FunCakes Bread Improver to your recipe to make the dough easier to process and to keep your bread fresh longer. This type of flour has a beautiful baking nature and is ideal for making firm whole grain (multigrain) bread.
May contain traces of: gluten, egg, soy, milk and lupin.
Store in a cool, dry place, 15-20°C.
Nutritional values per 100 g
| | |
| --- | --- |
| Energy | 1386 kJ / 331 kcal |
| Fat | 2 g |
| of which saturated | 0,3 g |
| Carbohydrate | 57,5 g |
| of which sugar | 2 g |
| Protein | 14,5 g |
| Salt | 0 g |
The FunCakes Whole Wheat Flour is 100% natural and without additives. After baking the bread has a neutral taste.
100% whole wheat grain and high protein flour. Wheat flour milled from selection of high quality wheat.
Easy to process. Excellent flour for all types of whole or multigrain bread.
| Netherlands Valgetal | Germany | France | Italy | Spain | Protein |
| --- | --- | --- | --- | --- | --- |
| 280-320 (volkorentarwemeel) | Vollkorntype 1600 | Farine Intègral Type 150 | Farina integrale di grano tenero | Harina Integrale 150 | 14,5% |