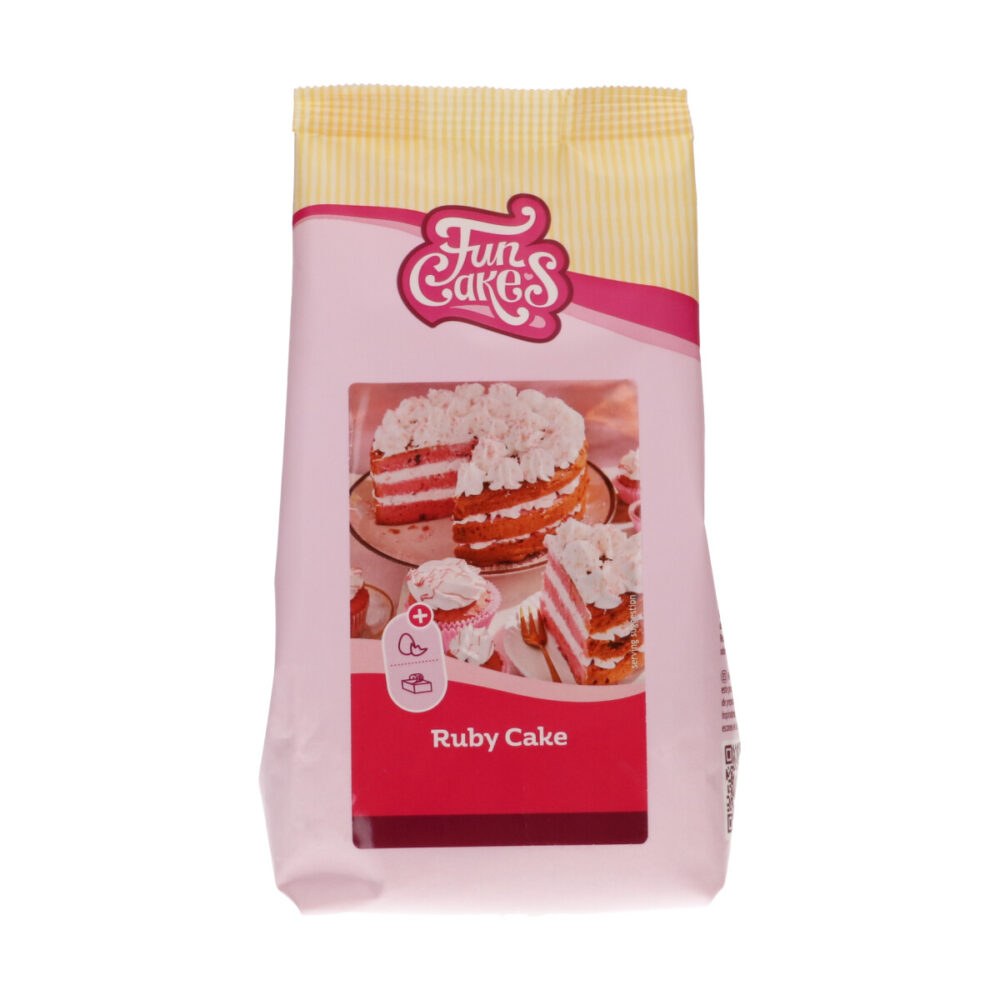 Mix for Ruby Cake
The newest chocolate, Ruby chocolate, is pink (!), creamy as usual, fruity and with a gentle bit of sour. It's so good we just had to turn it's taste into a cake. With this baking mix you create a pink cake with a fruity taste and pieces of white chocolate and cranberries! These are already in the mix so you only have to add butter and eggs. Fun fact: the mixture is white and will turn pink after it's mixed with the butter and eggs. A little magic which makes this cake lots of fun to bake with kids! Use the mix to bake a (loaf) cake or cupcakes.
Sugar, wheat flour, white chocolate (sugar, whole milk powder, cacoa butter, skimmed milk powder), white chocolate (natural vanilla flavouring, E322), chocolate pieces (sugar, cacoa butter, whole milk powder, cacoa mass), chocolate pieces (E322, E330, natural vanilla flavouring), cranberry (dried), raising agent: E450, E500, emulsifier: E472b, E477, salt, glucose syrup (dried), skimmed milk powder, natural flavouring, thickener: E415, colour: E120, vegetable oil and fat (sunflower).
For allergens, see ingredients in bold.
May contain traces of: egg, lupin.
Store in a cool, dry place.
Nutritional values per 100 g
| | |
| --- | --- |
| Energy | 1642 kJ / 392 kcal |
| Fat | 3,3 g |
| of which saturated | 1,9 g |
| Carbohydrate | 85,5 g |
| of which sugar | 50,1 g |
| Protein | 4 g |
| Salt | 1,3 g |
For this cake use 400 g mix, 4 eggs (200 g) and 200 g butter.
With the same quantities you can also bake 12-15 cupcakes!
Ingredients need to be at room temperature.
Preheat the oven to 170°C (convection oven 150°C).
Put the mix, eggs and butter in a bowl.
Put a (flat) beater on your mixer.
Mix at medium speed for 4 minutes to a smooth batter.
Fill the baking pan with the batter.
Bake the cake in the oven for approx. 55 minutes.
Going for cupcakes? Bake them for approx. 20 minutes.
Release the cake from the baking pan immediately after baking and let it cool down on a cake grid.